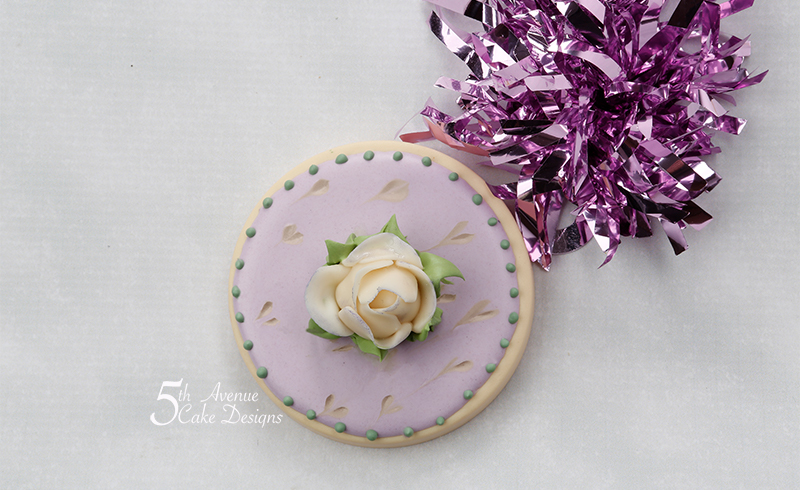 Welcome to 5th Avenue Cookie Art Academy's  lessons for children, all kinder cookie art lessons are free to help teach 3-7 year olds through creative play while  decorating cookies! I realize with #StayHome and schools closed it can become difficult to continue to develop exciting activities with the items in your home; therefor my daughter (Early Childhood Special Education Teacher) and I will be sharing a series of lessons to help you and your child stay engaged as days turn weeks and idea run thin! Of course any age can create this cookie!
All the supplies used may be found in your household!
Supplies Needed for Wet on Wet Cookie With No-Cutter Rose
Fondant Rose:
Fondant or Play Dough  (Any color)
Play Dough Recipe below
Sandwich Bag (4)
Round Cookie or Notta Cookie
Rubber bands
Toothpick, Screw, Boo Boo Stick or Tressing Needle
Food Paste or Kool-Aid
-Lavender ( 2-drops Dark Purple, or Kool-Aid Grape 1/8 teaspoon to 1/4 teaspoon add drops of water until color is at a heavy cream consistency)
-Taupe (2-drops green, 1-drop red or pink, and 1-drop brown Kool-Aid 1/4 teaspoon green, 1/8 teaspoon red, and a smidge of Grape now add drops of water until color is at a heavy cream consistency)
Green: Any Green (I mixed a Yellow Green with 1-drop Black
Scissor (if you have kids craft scissors the student may cut the bag).
Here is a short video showing the tools needed;
Play Dough Recipe:
2 cups white flour
1/4 cup cream of tartar
1/2 cup salt
2 Tablespoons vegetable oil
2 cups water
Food coloring you may use Kool-Aid if you do not have food paste or food coloring
Kool-Aid
You could also add scented extracts (almond, lavender, or vanilla) to give your dough a scent.
Start by mixing the dry ingredients in a medium size pot.
Next, you can add the water, oil, and your food coloring of choice to the pot.
Then, mix the ingredients together thoroughly. Cook your mixture on medium heat, stirring continually. When a ball forms in the middle of the pot, remove from heat. Allow time for the dough too cool.
Then you'll want to knead the dough as necessary .
To ensure that the dough lasts for a long time, store it in an airtight container.
Developmental skills:
➡️Fine Motor skill
-Rolling fondant
-Pushing the Fondant with finger or knuckle
-Manipulating fondant can be a good sensory activity
-Painting water on petals with brush or fingers
➡️Academics:
–Counting the petals by using 1:1 correspondence
-If you use different color fondant or play dough you can have your child make a pattern with different colors (red, blue, red, blue, etc) 
123 are you ready to decorate? Yes!
No Cutter Fondant Rose Lesson:
If you do not have fondant you may use Play Dough
I have a complete tutorial on making the royal icing consistency, including 10-second consistency: Lace Bridal Cookies Art Lesson
Let's get our sandwich bags and royal icing ready and time to make #IncredibleEdibelCookeArt
Developmental Skills:
➡️Fine Motor Skills
–Stirring the royal icing
-Piping dots (can support hand eye coordination)
-Pushing bag around the cookie (can use hand over hand for moving the icing around)
➡️Academics
–Counting how many seconds for flooding consistency
-Identifying shapes (hearts/circles)/can count dots, circles, hearts 
We have patiently waited all day to put our cookie together, and now it is time!

 It appears I forgot to show how to attach the rose, place a small blob of icing in center of the circle shape cookie and add the rose on top of the icing.
Developmental Skills:
➡️Fine motor
–Pressure control
-Cutting the bag (for older children)
➡️Academics
–Count dots around the cookie
-Compare leaf sizes
We hope you had fun, see you next week for another Kinder Cookie Art Lesson❣️