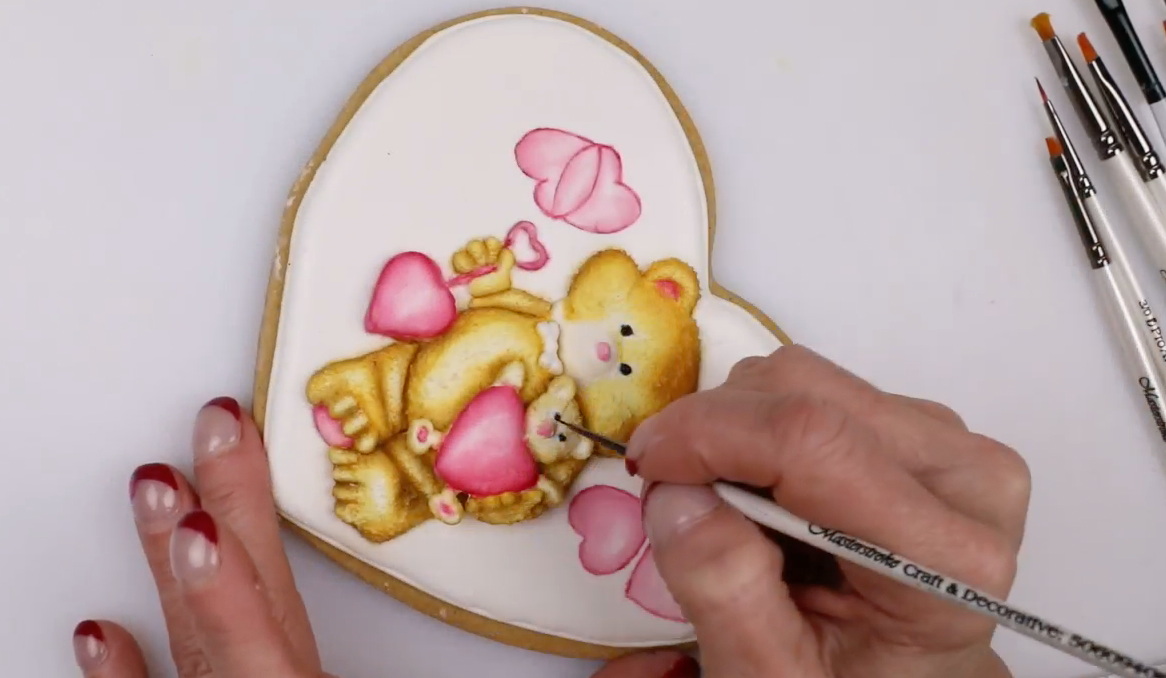 Grouchy Cupid Cat is a great exercise in creating form by painting tone and establishing shine and texture with brush technique. With its limited palette it's not too taxing when it comes to color mixing, but it will push you to get dark enough with your darkest tones, so it's great if you tend to be timid when it comes to establishing depth of color. We also need to capture his subtlety whilst still managing to give those wings an iridescent effects, and some drama! As well as going through how to mix the hues for a realistic pink hue that is not-too-pink.


Painting Grouchy Cupid Cat lightest grey Tones
Painting Grouchy Cupid Cat Darkest Tones
Workshops available for beginners, intermediate, and advanced cookie artists!
Frequently Asked Questions
How long do I get access to the video tutorials for? Can I keep them?
The videos are hosted on the website and can only be streamed (watched when you are connected to the Internet), not downloaded to your own computer. So to access the video tutorials you need to be a member of the School website, with an active subscription.
Can I download the videos to my own computer?
No, the videos are streamed, but so long as you have a high-speed internet connection and are a member of the School, you can watch them as many times as you like.
Are the videos subtitled?
No, not at this time.
What if I can't keep up with the classes
There really is no way of getting 'behind' in The Workshops. Although we release new tutorials regularly, all the previous tutorials remain available, so you are not rushed to complete them, and can do so at your own pace.
If you find yourself struggling to get down to a painting session, contact us.
I've not joined an online workshop before and feel apprehensive, will it be for me?
The workshops are PRIVATE, and therefore everyone who is there is there to learn and to encourage others. There is guidance on navigating and using the site but it is pretty intuitive.
How are the subscription payments made?
We use trusted online payment processor Stripe to process the subscription payments.
Types of payment methods accepted
Stripe will accept payments by all major credit cards, including Visa, Master Card, American Express, Discover.
Security
Using your credit card through via our website and Stripe is totally safe. Our website is SSL certified and we do NOT store your card details, Stripe does. They are PCI compliant to the most stringent standards.
Getting Help
If you ever have a problem with the subscription process, you can get help by contacting us via email at shop@5thavenuecookieartacademy.com.
What are the Terms of Purchase?
5th Avenue Cake Art Academy
If you have any questions, we would love to help.